The Enid Blyton Secret Series – Plot Synopsis – Book One: The Secret Island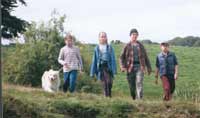 Peggy, Mike and Laura are staying with their Aunt and Uncle – Harriet and Henry – while their eccentric father, Thaddeus (accompanied by photo journalist Charlotte Clancy) sails around the world.
In the aftermath of an unexpected storm Thaddeus and Charlotte are presumed drowned. Uncle Henry and Aunt Harriet see this as a perfect opportunity for inheriting Thaddeus' estate. Frustrated by their devious plans, Henry and Harriet take it out on the children in their care – causing them to run away from their wicked Aunt and Uncle.
Taking shelter on a deserted island the children encounter Jack, who is eventually revealed to be an orphan who has also run away from home. Back at the farmhouse Henry and Harriet discover that the children have run away. They set off to look for them but to no avail. They decide not to tell anyone that they have gone missing in case it draws attention to their plans to sell the children's house.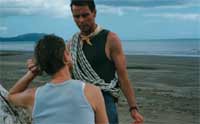 While the children on their island – unknown them, their father Thaddeus and Charlotte are shipwrecked on an island themselves – and mutually blaming each other for their plight – but don't opposites attract?
Still on the island the children decide to take shelter in a secret hideout. Jack tells the others a story of how a mad monk used to live on the island. after some peculiar happenings which constantly surround the children they think that the island is haunted. Foggo, the chairman of the explorers club calls PC Cooper who tries to find the children…
The children eventually discover the identity of the ghost to be a kind old monk who has taken refuge – and is intent on pursuing his environmental dream – specifically to save an owl sanctuary which has come under threat from the local authorities. Meanwhile Aunt Harriet and Uncle Henry try somehow to prevent the authorities from closing in, having been alerted to their insidious plan by Lord Foggo, chairman of the explorers club and mentor of Thaddeus.
As the story evolves events take on unexpected twists; Thaddeus and Charlotte are saved after having been discovered on a desert island.
Uncle Henry and Aunt Harriet are found out and arrested by the local police, and the monk is successful in fulfilling his environmental dream.
The children are discovered by the police and much to their joy are reunited with their father upon his return home from being rescued.