Return to Treasure Island
1 x 90' Movie of the Week, or 3 x half-hour mini-series.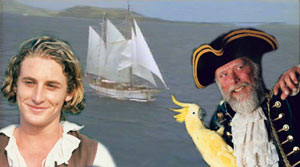 Inspired by Robert Louis Stevenson's classic tale of romance, treachery and adventure on the high seas, Return to Treasure Island is Cloud 9's original sequel picking up the story of the legendary Long John Silver and his long time adversary Jim Hawkins (starring Dean O'Gorman of the Young Hercules fame).
Jim Hawkins has grown into a gentleman and became a merchant ship owner and his path is destined to cross with Long John Silver during the turbulence of the American War of Independence. Silver is up to his old tricks again but this time there is an added complication to his relationship with Hawkins – Silver's daughter, Coral, with whom Jim is mutually attracted.
It is a tumultuous time and Jim Hawkins, Long John Silver, Coral and others become involved in a desperate game of cat and mouse with the British warship commanded by Captain Savage – which unexpectedly reaches its climax on Treasure Island.
Shot entirely on location in Fiji, this story has drama, action, suspense and romance set against picturesque locations from the high seas to the white sandy beaches of the South Pacific with plenty of action and adventure – and a few tears along the way – to entertain the entire family.