Group Chairman and Chief Executive – Raymond Thompson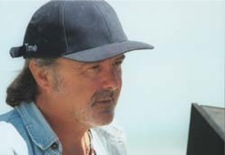 Raymond is a veteran of the television and film industries, where he began as a writer. His first novel, The Number To Call Is… was a bestseller and achieved critical acclaim in 1979.
As lead writer/script consultant he has worked on several motion pictures and television series. His credits range from Hotshot to Squadron, Trainer to the icon series Howards Way, which is regarded by many as one of Brtain's best loved drama series (and which regularly achieved the highest ratings during its six-year run).
From 1989-1994 Raymond was also Head of Development for BBC Television Drama, where he had a production/creative liaison on a wide range of successful BBC titles – many of which are still being broadcast today.
In 1994 Raymond founded the Cloud 9 Screen Entertainment Group in association with the Sanctuary Group PLC.
In addition to being Chief Executive of the Cloud 9 Group, Raymond has also Executive produced Cloud 9's portfolio of programming from inception to the current day- many of which Raymond also created.
In 2001 Raymond returned to his musical roots and composed the symphony, Spirit, which premiered at the Michael Fowler Centre in Wellington via a performance by the New Zealand Symphony Orchestra (conducted by Kenneth Young). The symphony is performed in other parts of the world. Raymond also composed many of the soundtracks of Cloud 9's programming.
In December 2002 Raymond was appointed an Adjunct Professor by Queensland University of Technology in the Creative Industries Faculty as a vehicle for guest lecturing, mentoring and to consult in both the private and public sector on the television and motion picture industries.
Also in 2002 Raymond was honoured (along with Ray Bradbury) for the cult series, The Tribe, at the Dragoncon Festival in Atlanta, Georgia.
In recognition of Raymond's achievements, he was appointed by Her Majesty Queen Elizabeth II as a member of the New Zealand Order of Merit in the 2003 Honours List in recognition of his services to television and entertainment.
Raymond has adjudicated at many festivals including BAFTA and was a member of the jury for the 2004 Emmy finalists.
In 2005, Raymond acquired Tirohana Estate (www.tirohanaestate.com) to pursue his hobby and love of premium wine and is a regular visitor to Martinborough in New Zealand where he participates in each vintage.
He is heavily involved in his charity The Cloud 9 Children's Foundation and is currently writing original screenplays which he is developing and hopes to produce in line with Cloud 9's expansion into the motion picture industries.