A unique teen spoof 26 x half-hour episodes.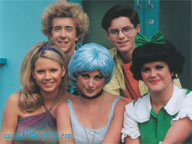 Giles Gordon, a 16-year-old nerd, moves into Sunset Cove with his eccentric mother, Dorothy, and wacky Grandpa.
Sunset Cove appears perfect in every way – it is an idyllic coastal town where the beach is always around the corner, the sun forever blazes onto endless golden sands, the surf is up and never down, and the people of the town are beautiful. It is the world of sunshine soaps where everything is perfect in tone – but as Giles soon discovers, there is more to Sunset Cove than meets the eyes.
Giles is the new student at Atlantis High, the local high school, where the students seem to be – weird. Also, the teachers. Could the school being reputedly built on the lost city of Atlantis have anything to do with this?
Feeling like a fish out of water, Giles soon falls in love with classmate Octavia Vermont, who is beautiful and amazingly intelligent. However, Giles has a rival for Octavia's affections in the form of Josh Montana, the wealthy and handsome bad boy of Atlantis High. But little does Giles know that Octavia is really a secret agent and Josh Montana himself masquerades as a crime-fighting superhero at night.
Giles also makes friends with Beanie, a kid with very large pointy ears and a fascination with flying saucers. Beanie doesn't know his origins – could he really be an alien? Giles also becomes friends with Jet Marigold, a feisty blue-haired chick with attitude – and a strong belief in some wild conspiracy theories – might some of her theories actually be true?
The science teacher of Atlantis High, Mr Dorsey, has a strange accent and a fondness for rodents. He also looks up to the stars and speaks into a flower. Is he just eccentric – or an alien on a secret mission? Giles, Octavia, Jet and Beanie set out to try and unravel the mystery.
What is the secret of Giles' mother? Is there something lurking from her past – and who does she work for really? Why does Giles' Grandpa always seems to have something to hide? The military under Commander Vermont are a constant sight around Atlantis High and Sunset Cove – but what are they searching for?
With his friends, Giles finds himself on a series of unexpected adventures and surprises.
From a trip around the wonders of the world in a bus, to encountering ninjas and secret agents, a toy rabbit with a mind of its own, to making friends with a trio of intrepid alien travelers. Oh, and there is a poltergeist or two, super-villains and superheroes and melodrama which may affect the world – and universe – forever.
This really is a series that has to be seen to be believed and will entertain the entire family.