The New Tomorrow pays homage to The Tribe, which has distinguished itself as a cult hit series around the world (and is available in 260 x 26 minute episodes).
The title is not a sequel though and is 'more gentle' in tone, exploring similar themes of a world without adults and all that entails – introducing new and younger characters so that The New Tomorrow is targeted more to a conventional children's audience rather than favouring a teen market segment with the prime demographic being 8-12 years old. But it can be enjoyed by the entire family.
Unfolding against a backdrop of photogenic snow capped mountains and streams, pine forests, rolling valleys and hills, this scenic wilderness is inhabited by tribes of children – reminiscent in many ways to the ancient clans of Scotland.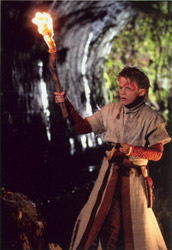 Some live in encampments of tents, others in crude primitive style dwellings, and others in caves.
The tone has a primitive feel and look in costume and design. The backdrop could be one thousand years in the past. But it could also be one thousand years in the future.
In one particular valley, there is a (mostly inaccessible) wasteland evoking something quite futuristic. A dangerous, mysterious and uncharted no go area around which there are seemingly no signs of human or animal life. Only machines from a bygone age which roam and in themselves evoke their own legend and mythology.
The series focuses on the interplay of four tribes. The Ants. The Barbs. The Privileged. And the Discards. But the weather and backdrop are also integral … almost as a character as children battle against the forces of Mother Nature from the first snows of winter, to the parched lands in summer, and rain and floods in the fall, punctuating themes of living off the land.
Some tribes worship the sun and moon, viewing all things elemental with an almost spiritual significance. Their culture and entire heritage seems to emanate from ancient markings visible from caves and rocks – and huge mysterious stone edifices reminiscent of Stonehenge and Easter Island.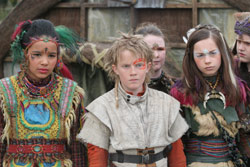 The markings seem as if they have evolved from an ancient civilization but are also reminiscent of the machines whom roam the technological graveyard in the Forbidden Zone.
The New Tomorrow combines action and adventure, mystery and intrigue, humour and pathos with underlying themes of hope and human endeavour where good always triumphs in the end.
Find out more about the New Tomorrow – by visiting our web site www.thenewtomorrow.net