The Enid Blyton Adventure Series – Plot Synopsis – Book Two: Woods of Adventure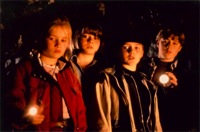 The holidays are drawing to a close. Jack and Lucy-Ann have to return to their Uncle. They don't want to go. The kids decide to camp in the garden and while erecting the tent, Jack hears the call of a Tawny Owl. That night he persuades the others to go with him into the woods to catch sight of it.
While searching for the Owl, they come across the broken wall of Woods Castle. They see a weird flickering light and hear strange noises in the undergrowth. Unnerved, they return home to find an anxious Allison. Straight to bed.
She fails to tell them that in their absence Bill has phoned, their friend from their Island Adventure, and is coming to stay – ostensibly on a walking holiday. He is in fact investigating the death of a fellow agent whose body has been found on the coast nearby with an excessively high radiation count.
Bill arrives the next day and Dinah sees a gun amongst his possessions. She doesn't believe in his 'holiday' story. While Bill and Allison get to know each other better, the kids slip away to have another look at the Castle. This time they get quite close but once again, they are chased by an unseen malevolent force.
In their panic to escape, Kiki gets lost. Jack refuses to leave her so Philip runs home to enlist the help of Bill and Allison. They all arrive at the Castle and start to look for Kiki. Unknown to them she has been captured by the sinister Gary, a madly disturbed young man who was the agent of their concern when they were chased.
While Bill and Allison explore, the kids find their way in through a turret window and continue their search for Kiki. Jack is convinced she's there. They find their way into the library where their ears are assaulted by strange ghostly noises and Lucy-Ann sees glittering eyes shining out from a painting.
They are discovered by Gary's mother, Elsie, who ushers them out angrily. The Castle is unsafe. They meet upwith Allison and Bill and are taken home, chastened. Lucy-Ann reveals a feather she found at the Castle. Jack plots to return later that night.
Philip wakes up in the night. Jack is gone. He finds Dinah and Lucy-Ann having a midnight feast. They hurriedly dress and slip off into the night in hot pursuit of Jack.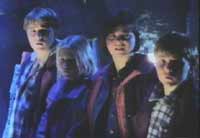 Philip, Dinah and Lucy-Ann meet up with Jack and find their way into the castle through the kitchen window. They are almost discovered by Bright, a scientist working at the Castle, who has promised Elsie vast amounts of money in return for using the radiation pool in the Castle's cellars to irradiate metal rods to sell to terrorists.
While searching the Castle the kids see Gary and Kiki disappear down a secret passage and follow. They get trapped in a dungeon but manage to escape. They then enter a spider strewn tunnel where Dinah nearly dies of fright. She is terrified of spiders. Lucy-Ann blindfolds her and they continue on their way until they come to the radiation pool, gleaming with a sinister light. Prior to their arrival, the mad Gary has an altercation with Bright over Kiki. Bright gets pushed into the pool and dies.
The kids find Kiki and escape with her, pursued by Gary. He mobilises a secret gate which blocks their way. Lucy-Ann wriggles through the closing gap and after another encounter with Gary, where he reveals a gentler side to his character, escapes, just as Allison and Bill arrive.
Bill rushes to the rescue. Gary throws himself into the pool and the mystery is solved. At breakfast later that morning Allison receives a letter. Jack and Lucy-Ann's uncle is ill. They can stay for longer. Allison wonders whether she might adopt them and Bill continues to fall further in love with this lovely woman.