Atlantis High – Plot Synopsis – Episode 24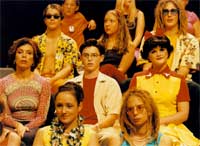 GILES discovers a litre of oil in the family fridge, while DOROTHY discovers the Big D's glove. GRAMPA vows there's gonna be changes.
BAD MOOD and SILVER LINING rendezvous at the Mallmart, where ANTONIA gives DORSEY a vital pictorial clue.
DON discovers the find of his life and VIOLET wants to get him on The SOPHIE Show.
The search continues for the meaning of BEANIE's past. JET reassures GILES that he's bound to get back together with OCTAVIA in the final frame.
DON's chip that looks like Elvis does not impress SOPHIE. Q tells SOPHIE to keep a closer eye on GILES and OCTAVIA otherwise it'll be chip lovers on every show.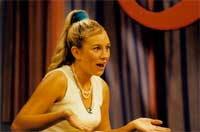 MRS VERMONT reveals to CMDR VERMONT that he put an end to Callie.
While all are out GRAMPA builds a motorbike in the kitchen.
GILES' INNER CHILD becomes the go-between for GILES and OCTAVIA.
SILVER LINING and BAD MOOD appear on The SOPHIE Show. They are not going to reveal their identities to the nation, but BAD MOOD does admit that she could never keep her identity secret from the man she married.
ANTONIA scans and enlarges an ancient picture of a totem pole that has the image of BEANIE with the initials A.H. on a headband. She calls DORSEY, but he is too busy entertaining a guest.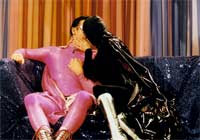 DOROTHY makes her moves on CMDR VERMONT while his family are out, and she makes him wear the Big D's glove. His gloved hand makes an attack for his own neck.
ANTONIA collects her spy supplies from the Mallmart, where SILVER LINING and BAD MOOD have again rendezvoused. BAD MOOD wants him to turn to the dark side, but he is torn between her and doing right.
Under a sprinkler of rain GILES and OCTAVIA are reunited. ANTONIA breaks in to DORSEY's house and discovers him in his alien state munching on mice. She has made a very big mistake.