Atlantis High – Plot Synopsis – Episode 21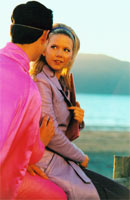 As VIOLET lost the school on the roulette table everyone is packing up the school. Teary eyed DON tells BEANIE and JET that they all have to move out of the basement.
GILES gets a job at the diner. SOPHIE digs dirt for the Agency.
DOROTHY tells GRAMPA that she thinks she's been brainwashed. She remembers nothing from before GILES was born. Meanwhile GRAMPA is sending signals to MRS VERMONT for a secret car park rendezvous.
ANTONIA and DORSEY go on a boat trip to search for Atlantis.
GRAMPA tells MRS VERMONT that DOROTHY (or DENNIS) is too close to the truth. MRS VERMONT must get the envelope off of OCTAVIA.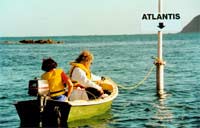 OCTAVIA is attempting to extract information from her father. CMDR VERMONT learns that DORSEY is in search of Atlantis in a boat.
BEANIE decides to make a beach house for JET out of shells. JET is suitably sceptical.
VIOLET, SOPHIE and DON are all working at the diner with GILES. Bad Mood makes an appearance at the diner, while Silver Lining comforts a distressed OCTAVIA, who thinks Silver Lining is GILES.
DORSEY & ANTONIA discover the locater device that DORSEY got from the aliens bears the initials A.H. What could that mean? Indeed…
BEANIE has built a tardis-like beach-side mansion. JET is surprised how 'normal' the interior is.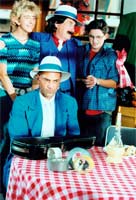 Bad Mood holds up the diner so she can see Silver Lining again. Silver Lining finds Bad Mood, just as she wanted. They nearly kiss, but he leaves. We discover Bad Mood is SABRINA.
VIOLET makes a deal with LEW SIFFER so she can buy the school back. MRS VERMONT gets the envelope off of OCTAVIA, telling her that she will take it to the police and let them deal with it. But OCTAVIA discovers MRS VERMONT and GRAMPA burning it in the backyard. MRS VERMONT turns nasty.
BEANIE gets a job at the diner and makes a new style pasta sauce out of soap powder, which is accidentally fed to mob boss MR NITE. GILES decides to save BEANIE when MR NITE asks who made the sauce by saying that he did.
MR NITE loves it, and he takes GILES with him – he's got an offer for GILES that he can't refuse.