Atlantis High – Plot Synopsis – Episode 12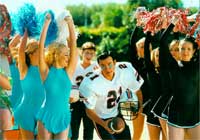 GILES awakes to Happiness Week – but he is far from happy. His heart is broken by OCTAVIA and SOPHIE assumes he is her boyfriend.
DORSEY is miserable too – if he can't achieve his objective then this whole area of the universe will be wiped out forever. Luckily he comes across "emergency plan B".
VIOLET happily makes a bet with LEW SIFFER on the big game at extreme odds against Atlantis High.
GILES, attempting at being a verb, tries to tell OCTAVIA that JOSH isn't the man for her – but he is thwarted.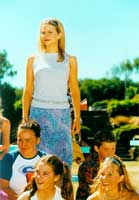 DOROTHY slips a slide in to CMDR VERMONT's slide show. He briefs his men on what they know so far, and concludes that they need to stake out Atlantis High. PRIVATE FLYTE, who communicates with pigeons, will go undercover.
JOSH gets the wrong message from OCTAVIA's explanation of their kiss in episode 11. COACH SHANE wants GILES on the football team. And VITA reveals her love to COACH SHANE with disastrous results.
VIOLET announces to assembly that there will be a big football game that afternoon. COACH SHANE hijacks English class to run through the rhythmic game plan. GILES will be quarter back.
With reptilian DNA and an egg ready DORSEY activates the compiler. While DORSEY is out of the room PRIVATE FLYTE investigates DORSEY's machine and accidentally lets a pigeon enter the compiler. Only reptilian DNA was allowed for the process to work correctly. As DORSEY's contaminated egg is incubating it begins to glow and crack.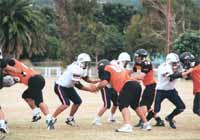 COACH SHANE's football game plan is to dance the entire game. The opposition are LEW SIFFER's dark side. The game begins with the dark side taking a big early lead. VIOLET is quietly happy.
DORSEY is horrified by what comes out of his egg.
A giant Godzilla-like pigeon swoops down on the football match, distracting the dark side and allowing GILES to score a touchdown. This paves the way for an Atlantis High victory. VIOLET is sour.
The giant pigeon is hosed down by CMDR VERMONT and his men as they scan the sky for pigeon work from PRIVATE FLYTE.
GILES furtively follows OCTAVIA to Q's HQ and learns that a marriage is on the cards. Just not his.